Last Updated: April 25, 2020
Are you thinking about buying a Glacier Bay toilet? Read our Glacier Bay dual flush toilet reviews and learn about their features, performance, efficiency and much more.
Glacier Bay Toilet Reviews
Glacier Bay is a brand of Home Depot which is an American Home improvement supplies Retail company that offers tools, construction products, and services. As far as the Glacier Bay brand is concerned, it offers you a wide collection of kitchen and bathroom faucets and supplies. Whether you are looking for a high-efficient dual flush system one-piece toilet or simply a compact two-piece design, this brand has everything you really need. You can find the standard and special toilet that meets ADA compliance. One can expect exceptional performance from every toilet of this design.
When it comes to quality, you notice that every toilet is designed with top quality material which lasts longer and shows great resistance to stain. Homeowners prefer Home Depot products since they know that a product that they grab from this company's collection will completely worth their money. They will get a product that is tagged as the best in terms of design, quality, and functionality.
Glacier Bay 1-piece High-Efficiency Dual Flush Toilet Review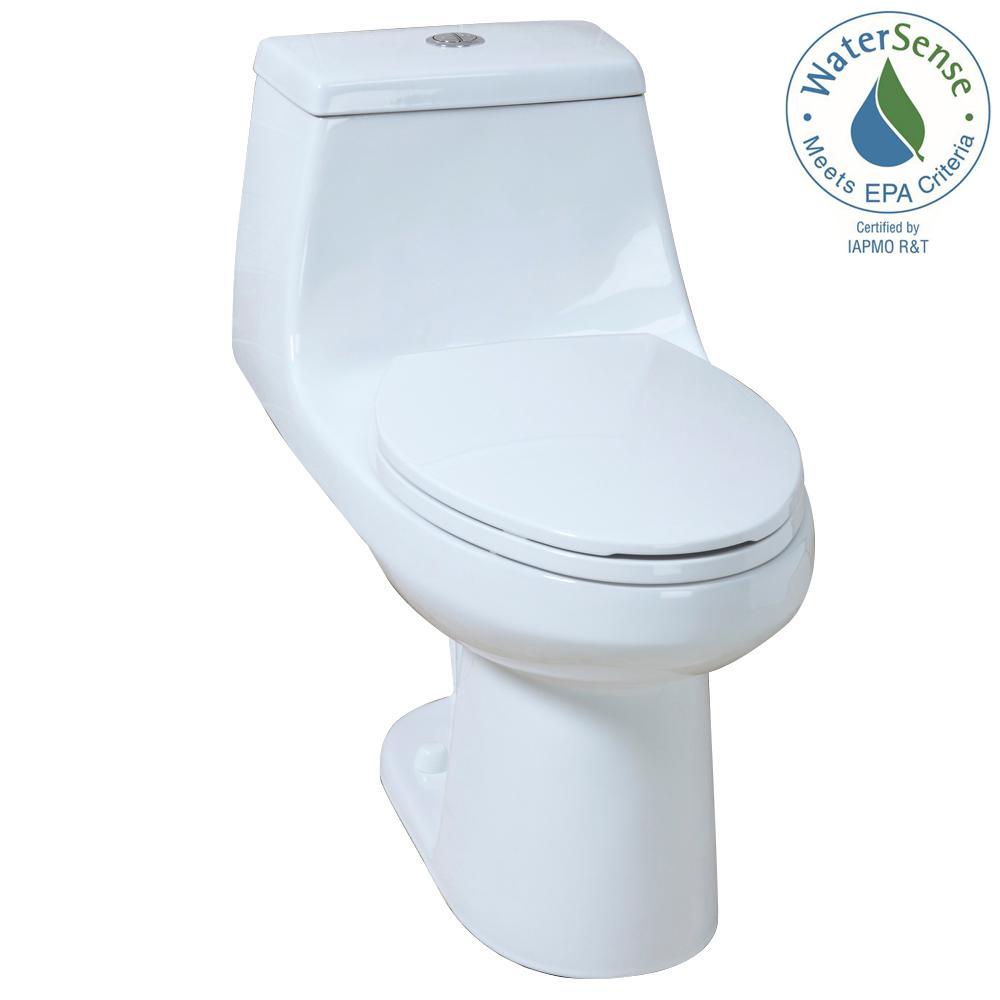 This is one of the best ones that are available in the market for the use of common people. Everything in this toilet is basic and yet loaded with features that are actually necessary.
It can't be said that this is the best one as there are many toilets available in the market that have high-tech features, but at the end of the day, their work is to get rid of the waste so it makes no sense to spend thousands of dollars on a toilet when you can have that for a few hundred bucks.
So, let's start with the features of this toilet.
Shape of Toilet
This toilet has an elongated shape which makes it convenient for the use of both men and women. This toilet provides a person with all the space he or she needs to do their business. With an elongated shape, this toilet has pretty sleek curves that provide a better user experience.
Now, let's review the shape. The shape might be good for adults or teens, but it is definitely not for those children who are under 5 years old. The size of this toilet limits them to the front of the seat and their waste drops down on the front curve rather than dropping in the water which can become an issue while cleaning.
For kids, round-shaped toilets have proven to work better which are not really suitable for men as it does not provide enough space to the places where it is needed. So, elongated toilets work better for both the genders, especially the men while they can be a little uncomfortable for the kids.
Efficiency
Another feature of this toilet is efficiency. The hole at the bottom of the bowl is big enough for the solid waste to pass. This prevents clogging and gives you the best performance.
The best part is that it can save your water bill as this toilet consists of a dual flush. The dual flush works for both liquid and solid waste. Since liquid waste needs less water so pushing the liquid flush squeezes out much less amount of water when it comes out for solid waste saving you a lot of water and also the money.
It is also good for nature as water conservation has become a necessity now. So, overall it can be said that this product is pretty good for those who are looking for an affordable and efficient toilet for their bathroom.
Ease of Installation
It is very easy to install and can fit anywhere very easily. Moreover, this toilet has everything a person ever needs from a toilet so there's not much to think about. It gives high performance, it's super comfortable, doesn't burn a hole in your pocket, and saves a lot of money once installed.
Pros and Cons
Pros
Affordable
Highly-efficient
Water conservative
Cons
Not suitable for those below 5 years of age.
Glacier Bay 2-piece High-Efficiency Dual Flush Toilet Review
This is another elongated toilet from Glacier Bay. This two-piece elongated toilet from Glacier Bay is actually a really great product.
Shape of Toilet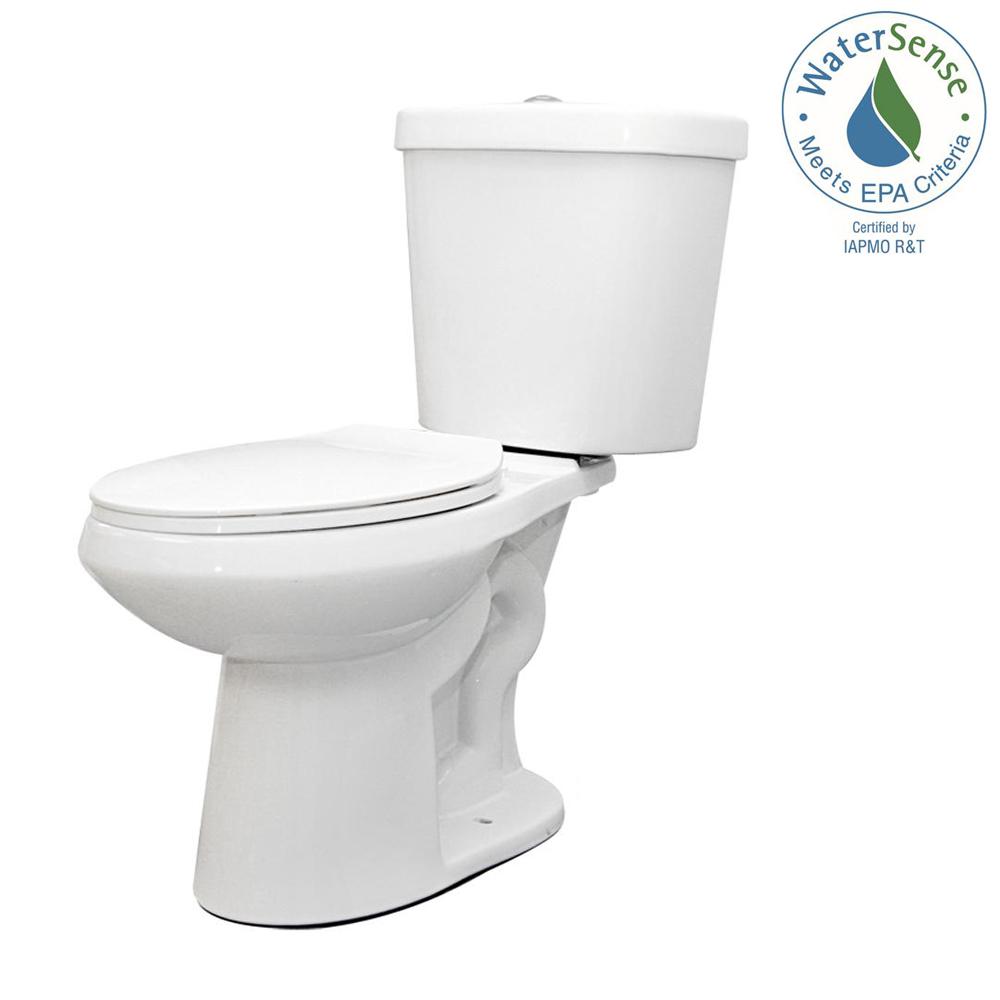 Let's start with the first feature of this toilet, which is the shape. Since the shape of this toilet is elongated so it makes it convenient for anyone who uses it.
Elongated shapes work better for men as the shape provides them extra space at the places where it is most required. Apart from that, it is also convenient for those who need a little extra space at the back. But this feature has its own downside. An elongated toilet is not really suitable for those children who are less than 5 years old.
The shape of the toilet limits the ability of children to go all the way back. This means that their waste tends to drop down right onto the toilet's front slope when it should be dropping down into the water directly.
This can create a whole lot of mess when used by a small kid under 5 years of age, but if we talk in general, then we can say that this toilet is a little spacey which makes it comfortable for both the men and the women.
Efficiency of Toilet
Now let's talk about the next part, but before that, we should know that the water is being wasted every day by mankind and more and more water resources are dying every day. Even a flush of a toilet can waste a lot more water than the amount of water that is needed.
This toilet has taken care of everything. This toilet consists of both liquid and solid flush options which is pretty efficient. When there is need to flush the liquid waste, then a lot less amount of water is needed to flush it down so the toilet uses a lot fewer gallons of water when you press the liquid flush button and when you need to flush the solid waste then you can always go for the solid flush.
This whole thing is very efficient because there is no scope for clogging. The waste won't get stuck in the toilet because the hole at the bowl's bottom is very big, making it easier for waste to pass through it.
Ease of Installation
Another great feature of this toilet is that it is very easy to install. The quick-connect installation system of this toilet makes it very easy to set up the whole thing. So, we can say that there is not much complexity involved in the installation process.
Accessories
The final part is the accessories that come with the toilet. A wax ring, a toilet seat and a bolt set for floor mounting come with the toilet. Overall, this is a decent toilet with a lot of perks and the best part is that its cost is very reasonable and you'll be able to get the best out of the money you pay for it.
Pros and Cons
Pros
Conserves water
Dual Flush
Highly Efficient
Affordable
Cons
Not suitable for kids below 5
Final Words
You have read two best Glacier Bay toilet reviews. One-piece dual flush toilet has a beautiful design and finish. When you want the toilet with an efficient flush at a price you can afford then it is indeed a right choice of a toilet for you. Good thing is that you can opt for DIY approach when it comes to its installation. It means you can save plumbing costs. However, when you are ready to spend extra money then two-piece model seems like the best toilet since it doesn't only conserve water through dual-flush mechanism but also has a more beautiful look than the one-piece design.
We have reviewed top toilets from glacier bay, you can purchase any of the above-mentioned toilets for your home which suits your requirements. If these toilets don't meet your required features or performance, we have reviewed some other best dual flush toilets. Take a look at them.